Unique PGA Tour Champions Event Draws More Than Golf Fans
Kenny Chesney is a country music superstar who sold out numerous stadiums and played to millions of fans on a recent tour. He also played En-Joie Golf Club in Endicott, New York. That's because this unassuming golf course also happens to host the DICK'S Sporting Goods Open each year. The Open is about much more than the sport, as a Friday night concert packs the area next to the 18th green. There's a lot going on here each June and it's got a long history rooted in the spirit of community service.
From 1971 through 2006, En-Joie hosted the PGA Tour in an annual event called the B.C. Open. You may think that the B and C stand for Broome County, but that's interestingly not the case. It was named for local Sunday comic artist Johnny Hart's beloved nationally-syndicated B.C. series. Endicott, just down the road from Binghamton, was his hometown. And that's just one of many, many ways the B.C. Open, which has become the DICK'S Sporting Goods Open is ingrained in the community.
Though it's hosted some of professional golf's biggest stars – Fred Couples, John Daly, Tom Kite, Arnold Palmer and Jay Haas to name a few – it's always been a true community event at heart. For starters, the B.C. Open operated for 36 years without a title sponsor – something unheard of in today's game.
"It was something that was embedded here within our community, here within Broome County," DICK'S Sporting Goods Open Executive Director John Karedes said. "It wasn't about the big sponsors, it wasn't about a big name. It was about Broome County.
"It was about getting everybody involved whether it was through volunteerism, whether it was through charitable endeavors, whether it was through just coming out and being a fan and watching these PGA Tour golfers," he said. "En-Joie became the epicenter of Broome County during that week and here we were part of something big, part of the PGA Tour … and it was something special."
In 2007, it became the DICK'S Sporting Goods Open – a PGA Tour Champions event. And from day one, it's continued to grow and grow into an entire week of activities that draws visitors from all over. The aforementioned Friday night concert is just one of the draws of the event named for DICK'S Sporting Goods, which opened its first store in Binghamton in the 1940s.
"The same way the B.C. Open was entrenched and woven into the fabric of this community, DICK'S Sporting Goods is as well and as we move forward, probably more so than ever," Karedes said. "As we continued to grow on the Champions Tour, we started to look beyond the golf game.
"We started looking at ancillary events, different ways to make it DICK'S Sporting Goods Open Week," he said.
Those events included clinics for kids and women, trick shot artists, health expos, a free family movie night with fireworks, and 5K walks and runs. Everything benefits the community not just in terms of fun, but charitable endeavors. Broome County Community Charities has raised more than $20 million to benefit the community over the life of the B.C. and DICK'S Sporting Goods Opens. The money goes to hospital foundations, community organizations and youth sports. In 2006, the B.C. Open raised more than $100,000 that went to desperately needed relief for floods that devastated Broome County that year.
The event draws casual golf fans and fanatics alike. Some just come to hang out. Then there's the concert that has become an event unto itself. The music brings everyone together.
"We were the first PGA Tour event going back to the 80s to actually put on entertainment just off the 18th green. As time went on and we've gotten a little bit larger, now we've started to have [bigger and bigger acts]," Karedes said. "We're talking about names who play amphitheaters, who play stadiums, and to be able to see them in a small venue like the En-Joie golf course where you might only have 10,000 or 14,000 people there with you, it's pretty intimate. It's a pretty cool environment."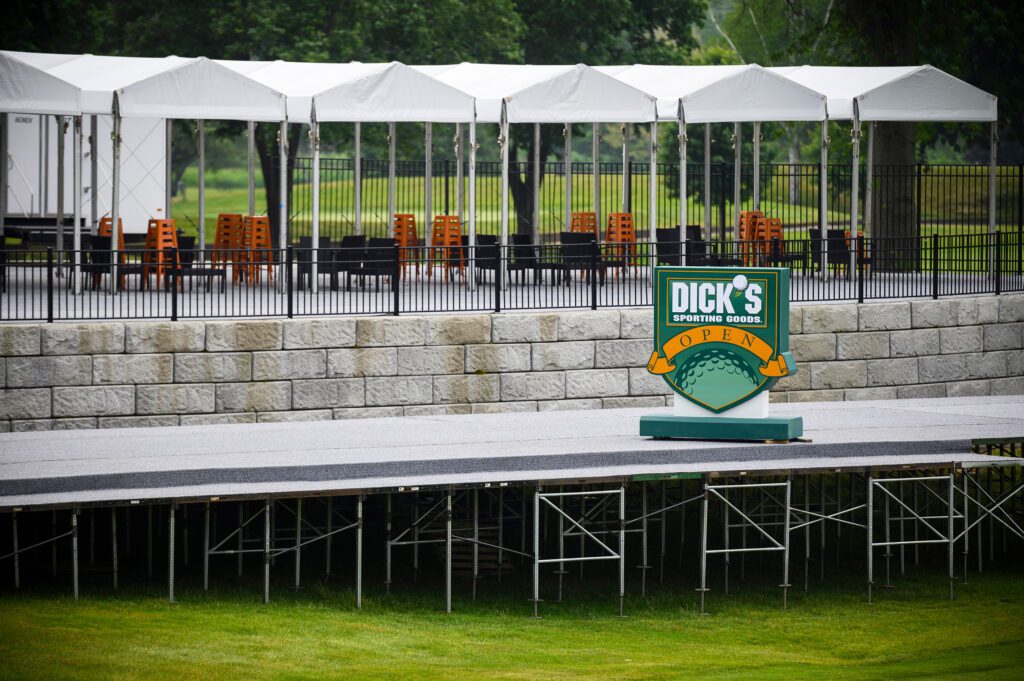 The DICK'S Sporting Goods Open is worth a visit alone, but there is plenty to explore in the surrounding communities from breweries and wineries to carousels to the world-famous spiedies sandwich.
"I think that there are some unique things in our community that once you come, you're going to want to come back and visit," Karedes said. "People love coming to this community. It's unique, it's small, it's quaint – it gives you a little bit of what probably the rest of the country is missing right now."
It's obvious the DICK'S Sporting Goods Open is about more than golf. It's about having fun no matter who you are.
"I just like to see people having fun," Karedes said. "At the end of the day, that's what we're trying to do: Putting on an event for people to enjoy themselves that we're going to raise charitable dollars from.
"I love to see people walk in that gate and come experience great professional golf maybe go to one of our ancillary events, but leave here with a big smile on their face and look forward to the dates the following year and coming back for our community and enjoying everything it has," he said.